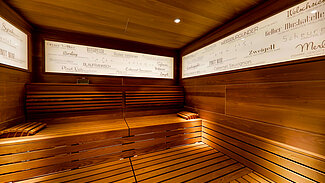 A visit to the sauna invigorates your immune system, stimulates your circulation, improves your breathing and warms up your soul on cold autumn and winter days.
Relax and enjoy the warmth at the Parkhotel
Whether it's a Finnish sauna or a bio sauna that is good for the cardiovascular system of heat-sensitive people or newcomers: After an active day of sightseeing or excursions, bathe in warmth in our saunas in the Spa area and recharge your batteries. Then enjoy a welcome opportunity to cool down in the pool. This is the perfect combination of wellness and exercise.
Finnish sauna with Atrium
Have a Finnish sauna at 90°C in the Parkhotel Graz, alone or in twos, with direct access to the Atrium, an open space outside with bucket showers. A sauna offers gently relaxation and improves your circulation. Furthermore, a sauna strengthens your immune system and can even work wonders with respiratory ailments. So, a sauna is your best health break on a busy day in Graz.
Bio-Sauna – the gentle sauna
If you are a newcomer or find the conventional sauna to be too hot, we recommend a visit to a bio sauna at the Parkhotel Graz. This low-temperature sauna has higher humidity and 60°C and is gentle on your cardiovascular system. So, even heat-sensitive persons can relax in a sauna, have a break and recharge their batteries. You might even be surprised by what you can learn about Austrian wine in our bio sauna.
Opening hours
of the saunas
During the following hours the sauna area of the Spa has free access:
Monday to Friday
from 5:00 pm - 10:00 pm
***
Saturday, Sunday and holidays
from 6:30 am - 12:00 am
and 3:30 pm - 10:00 pm
If guests would like to use the sauna outside of these hours, please contact our reception desk.