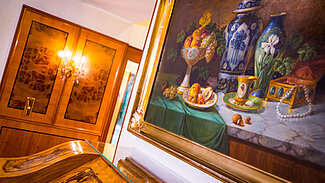 Check-in: Your room is ready from 3:00 pm on the day of your arrival.
To check out please leave the room latest till 12:00 am.
(Please return your room key at the reception desk)
Opening hours: Monday – Saturday 6:00 pm – 1:00 am
You can pay cash, with Maestro debit card, Mastercard, Visa, Amex, Diners or V-Pay.
Your consummation can be charged on your room invoice.
Fax service is available for our hotel guests at the reception desk. Fax number: +43 316 3630-50
Copy service available at the reception desk.
Surcharge € 17 (without food) for your dog. Thanks for your understanding that your dog is not allowed in the wellness area.
Free WiFi throughout our hotel.
The Parkhotel Cosmetics is on the second floor. All details and treatments of our exclusive cosmetics are mentioned in our Parkhotel Cosmetics folder. You can find this folder in the towel basket. Tip: The junior boss personally provides care to her clients.
Parking available directly in the inner courtyard of the hotel.
In our rooms and in the restaurant area as well as at the hotel bar, it is not allowed to smoke.
You may smoke in the restaurant garden.
Our restaurant is open daily and only closed on the 24th and 31st of December.
Breakfast: 6:45 am – 10:00 am
Sunday & holidays: 6:45 am – 10:30 am
Lunch: 11:30 am – 2:00 pm
Sunday & holidays: 12:00 am – 2:00 pm
Dinner: 6:00 pm – 10:00 pm
Direct dial from your room: extension 55
Opening hours of our reception:
Reception is open 24 hours!
Beverages : 7:00 am to 10:30 pm
Warm dishes : 11:30 am – 2:00 pm & 6:00 pm to 10:00 pm
Room service surcharge € 3 per order
For room service please dial extention 60.
The safe is free of charge. If locked, please contact the reception desk.
Opening hours: 6:30 am – 12:00 am and 3:00 pm to 10:00 pm
A basket with towel, bathrobes and bath shoes is at your disposal in your room.
Pool: Swim your laps in our 10-meter indoor pool at a constant water temperature of 28°C degrees.
Fitness: In our exclusive fitness veranda, you will find a selection of modern training equipment from the company Technogym. Equipment: Treadmill | Fitness bike | Vario (crosswalker/stepper) | Multifunction power tower | Dumbbell with training bench | Yoga mat
Sauna:
Opening hours of the saunas:
Monday to Friday: 3:30 pm - 10:00 pm
Saturday, Sunday and holidays: 7:30 am - 12:00 am and 3:30 pm – 10:00 pm
If guests would like to use the sauna outside of these hours, please contact our reception desk!
Finnish sauna: A Finnish sauna strengthens your immune system and can even work wonders with respiratory ailments. Our Finnish sauna at 90°C has direct access to the Atrium.
Bio-Sauna: If you prefer low-temperature sauna, you can relax in our bio sauna at 60°C. Tip: You might even be surprised by what you can learn about Austrian wine in our bio sauna.
Our reception staff will call a taxi if you need one.
You can directly make outgoing calls from your room. Pick up the receiver, dial 0 for the exchange line, the international dialing code for the country (see list of country codes) and the telephone number of your interlocutor. Internal calls are free of charge.
Reception extension 55, Restaurant extension 60
The tap water is drinkable and of high quality.
All rooms have flat screen TV and Sky TV.