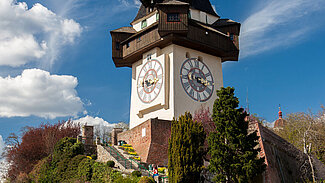 Prefer to discover the surroundings by jogging or by bike?
Leisure time
In Graz, bicyclists can enjoy a 106-km-long network of bike paths. Beyond the limits of the city, you can ride your bike on the popular bike route Murradweg, extending from Murau to Radkersburg through Styria along the river Mur. For your cycle tours you can borrow one of our Styrian cycles. For € 12 per day we lend our guests our newest bikes – and the helmet too. At the reception desk you can get a bicycle map with all 13 main bike routes in the city of Graz.
For all those who want to do a bit of jogging, the City Park just in front of the Parkhotel offers the perfect place. Ambitious long distance runners can take on the running track through the Lechwald, a forest 10 minutes away from the hotel. Those who do not avoid hilly areas with lots of ups and downs can run a 20-km distance on well-marked trails. A highlight every year is the Grazathlon, a real challenge even for strong and well trained athletes, as the names of the obstacles indicate: slider, jump into sludge, full pipe, hauling, monkey land, deer crossing and rock the wall … in total 18 obstacles must be conquered and of course 10 km of running track.