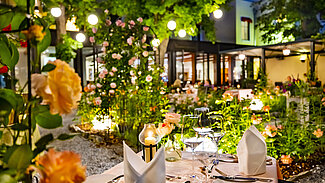 at the Parkhotel Graz
Restaurant Garden of Roses
Many a guest has felt enchanted and charmed by the flowering idyll: the splendid garden of roses at the Parkhotel in the old town of Graz, a calm little place nurtured with love in the middle of the busy city center of Graz, made to rest and relax and enjoy. Experience a mild summer night or your lunch break in the garden behind the venerable walls of the Parkhotel.
Surrounded by roses and fine herbs
Your oasis of tranquility in the old town of Graz
In perfect peace and quiet, yet still in the middle of the old town, guests like to come in again and again to take a coffee break or have a snack. Our guests enjoy extra special treatment here particularly at lunchtime and in the evening. You can choose between a 3-course lunch menu or dishes à la carte, created by our longstanding master chef Kurt Mörth and his team. Surrounded by splendid roses and countless herbs in our herbal garden, the restaurant garden is the perfect place for a romantic dinner or a meal with friends. There is no better way to dine on mild summer evenings.
Garden with roses … and history
Many parts of the venerable building continue to tell stories of past years. The charming garden of roses dates back to the year 1936, when not long before August Florian had taken over the business of the hotel. The old timber barn inside the court square, which served as a shelter for the travelers' horses, had been removed and replaced with a Biedermeier-style garden. Even today, this unique garden of roses is still in a class of its own in Graz. An oasis of tranquility, restaurant garden, café – the perfect idyll of the garden of roses in the old city town has charmed many visitors in Graz.