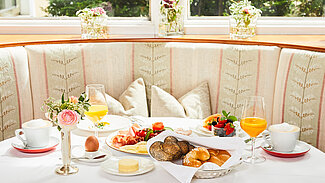 Hotel with Breakfast in Graz
Breakfast
The smell of coffee and fried bacon, the bright rooms in our winter garden – a perfect start to the day with a good breakfast in a cozy atmosphere. Come and see the creative breakfast ideas of the Parkhotel and book your room with breakfast.
At the abundant breakfast buffet, there is fresh rye bread and crispy bread rolls, delicious jams and savory spreads, and a bountiful health food section as well. Fans of wholefood will enjoy the wide range of cereals and wholefood products; and for those with a sweet tooth there are croissants and brioche.
Breakfast
Abundant Breakfast Buffet
Monday to Saturday
from 6.45 am – 10.00 am
***
Sunday und holidays
from 6.45 am – 10.30 am
For those with a hearty appetite in the morning, we can prepare ham and eggs, scrambled eggs or fried eggs. Freshly sliced fruits and vegetables, as well as delicious juices provide you with vitamins, so that you are full of energy and ready for the upcoming day. A wide selection of newspapers is available and helps you start your day well informed.