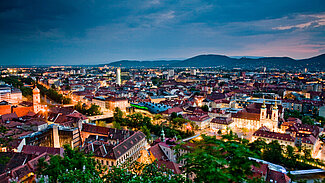 Strong partners – happy guests
Our Partners
We, the Parkhotel Graz, cooperate mostly with the following companies and are still improving the value of our services with their vast know how and hight-quality standards. Additionally, our partners support us in our goal to make your stay in the Parkhotel Graz and in the city of Graz as pleasant as possible.
The Green Heart of Austria! Beautiful mountains, unique lakes, purest water and picturesque excursions. In the sunny south hot springs tempt you into thermal baths and vineyards to look and enjoy – Styria's attractions are as diverse as the region itself. And in the middle of it all - Graz, the vibrant capital of delight.
Since 1990, Graz Tourismus & Stadtmarketing GmbH is the contact for visitors of Graz. The information office in the main street Herrengasse (the pedestrian zone) is open seven days a week. Find out here about everything you can see and experience in Graz, what is happening when and where, how to find the right restaurant, and much more. Group tours, guided city tours and excursions are organized here as well.
This reknowned theater house is within walking distance from the Parkhotel Graz. Classic stage, typical comedies and various contemporary plays take place here at the Schauspielhaus. The foundation for more than one big international career has been laid here and it is not by chance that the Schauspielhaus is among the best and sometimes even takes first place at the Nestroy Award Ceremony.
All four universities of Graz – the Karl-Franzens University, the Medical University, the University of Technology and the University of Music and Performing Arts can easily be reached on foot from the Parkhotel. These four universities with over 16 departments have built the extraordinary worldwide reputation of this location for research and science. Institutions of research in aerospace and automobile technology, in biotechnology and plant engineering are located in Graz. Private high-tech companies which export worldwide are located here as well. In total, about 60,000 students are currently studying at the universities in Graz.
The oldest and second largest museum in Austria harbors more then 4.5 million objects in 500 rooms in over 10 locations. Enjoy extraordinary museums unified in the Association of the Universalmuseum Joanneum. Take the opportunity and get a 24-hour or 48-hour ticket to have free access to all of these exhibitions. The perfect all-in-one offer for unlimited cultural enjoyment of the museums of Graz.