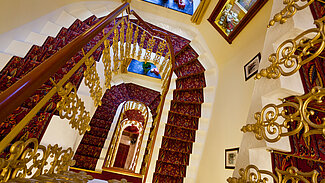 Maximum Comfort in Graz
Ambiance & Comfort
The Parkhotel's reputation as a place of perfect tranquility in the city center of Graz is evident throughout the house: in the prestigious garden of roses in the inner courtyard, in the spa and in the restaurant, as well as in the rooms – the rush and noise of the city is nowhere to be found in spite of our hotel's center location. Therefore, elegant furniture and soundproof windows take care of it in the charming classy rooms. In our 4-star Superior Parkhotel, you will find your well-deserved tranquility far from the hustle and bustle of the historic downtown. All of the rooms in our venerable city hotel have an elegance that combines tradition with the spirit of the times so that you can enjoy your days in Graz to the fullest. Enjoy the spacious comfort and stylish interiors of our well-equipped rooms.
A 'feel-good' hotel room in Graz
Regardless of whether you are looking for a congress hotel room or if you want to spend a romantic weekend for two in Graz, the 4-star Superior Parkhotel Graz is the place for you. The hotel's unique ambiance as well as the central but quiet city location invite you to feel good and relax after an intensive excursion or walk through the city. Our Parkhotel provides 68 spacious rooms and suites all furnished in an elegant and traditional style. All rooms welcome our guests in the center of Graz with a cozy flair and individual design. Our business guests as well as our holiday guests appreciate the perfect combination of traditional and contemporary elements that make up the unforgettable charm of our rooms.
The quality of sleep of our guests is our highest priority. Regardless of whether it is a romantic weekend for two or a business trip, a restful night is the requirement for a beautiful and productive day. It is our philosophy to offer the best sleep comfort in Graz. All our rooms are equipped with high-quality beds that guarantee highest comfort for sleeping.
With Tréca Interiors we have one of the most exclusive partners for luxury mattresses. Tréca Interiors has been among the best and most renowned producers of beds in the world for over 80 years now with a unique know-how about sleeping comfort. Mattresses of this French producer offer high-quality rest and a comfortable bed environment. The next morning, you will face a new day of work or holiday in Graz entirely relaxed.