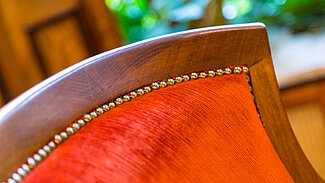 A look into the guest book
Guest Book
It is not only weekend tourists and business guests, who often come back as regular guests, that choose the Parkhotel Graz for its countless amenities during their journey.
Celebrities at the Parkhotel
There are lots of celebrities and prominent guests who have been and still are coming to the Parkhotel Graz over the last years and decades, including heads of state from all over the world, Austrian Federal Presidents, Nobel Prize Winners and many well-known celebrities famous in film and television, music and opera. Plunge into the awe-inspiring history of the Parkhotel Graz.
Leaf through our guest book and see an extract of the famous names the Parkhotel has hosted in the past years. Peter Simonischek, Adele Neuhauser, Otto Schenk, Helmuth Lohner, Karl Markovics, Michael Haneke, and Alexander Van der Bellen are some of those who have already experienced and appreciated the unique ambiance, the cordiality and the central location of this city hotel.
Time and again culinary experts have come to cook and create delicious gala dinners together with our master chef Kurt Mörth in the legendary Restaurant Florian. Even the star chef Dieter Müller, for example, has enchanted the guests' palates in the Restaurant Florian.