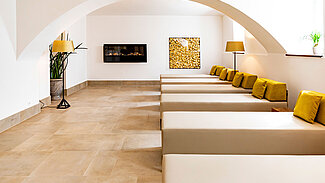 Elegant Relaxation Area
Relaxation Area
Our relaxation area at the Parkhotel Spa is equipped with best-quality hand-made relaxing loungers. Whether you want to stay just a short moment to relax after a sauna or a swimming, or you would like to rest a bit longer to read a good book, our relaxation area invites you to linger.
Relaxing in exclusive atmosphere
Next to the relaxation area you will find a generous tea bar with fresh Styrian apples - to make your stay in our Parkhotel Spa even more pleasurable.