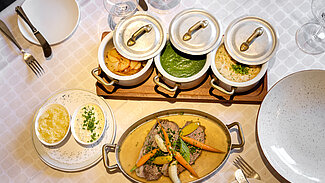 Lunch at the Restaurant Florian
Lunch
In the quiet and elegant atmosphere of the Restaurant Florian in the very center of Graz, you can experience a 'feel-good' time-out from the hustle and bustle of everyday life. The flowering garden of roses or, on cooler days, the winter garden and the elegant lounges are charming places to linger and take a relaxing break.
Elegant business lunch or pleasant break
Every midday, master chef Kurt Mörth and his staff make their extraordinary culinary masterpieces and serve you delicious and regional creations. Of course, we also offer a selection of excellent vegetarian dishes every day. As a partner of Kulinarium Steiermark we follow the guiding principle to use primarily seasonal products from producers and suppliers in the region to create culinary highlights for your meals and lunch menu. Wine connoisseurs can choose their own wine in our wine cellar. The wide selection of Austrian and international specialties of outstanding vintages does not make the choice easy when choosing a wine perfectly suited to your meal – our friendly staff will gladly advice you.
À la carte at the Restaurant Florian
Of course, you have the possibility to eat à la carte. Feel free to choose your favorite dishes from our diverse menu.
Apart from the traditional Austrian and Styrian specialties we also serve international and vegetarian dishes for lunch. Of course, we take into consideration any food allergies, intolerances and special dietary habits, therefore, at the Restaurant Florian, we serve your meal especially adapted to your needs and wishes.
In preparing our dishes we value high quality ingredients, most of which are from Styria, the region of culinary delight. Due to this fact, our cuisine has been awarded with the quality label AMA for the use of regional Styrian products. The high quality of our unique creations has been rewarded with a Falstaff Fork.