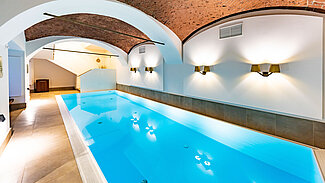 4-star Superior Hotel with pool in the old town of Graz
Pool - Refreshment at the Parkhotel Spa
Our indoor pool provides refreshment and relaxation.
A welcome break during your pleasurable stay in the city of Graz.
Swimming is a gentle workout. It is good for your body and protects your joints and tendons. Swim your laps in our 10-meter indoor pool and enjoy the unique atmosphere of the historical vaulted chamber. At a constant water temperature of 28°C degrees, our pool offers optimal rest after an exhausting day in the city. Whether you are looking for something refreshing after the sauna or simply some relaxation after your workout, swimming is always the right choice.
Gentle exercise in the pool any time of day
You can decide when to go swimming – in the early morning before breakfast to start the day relaxed and vitalized or after a warming sauna, or before you sit down for a delightful dinner at the Restaurant Florian.
General opening hours
of the pool area
During the following times the pool and the shower area are accessible without any restrictions:
Monday to Sunday
6:30 am to 12:00 am
and 3:00 to 10:00 pm