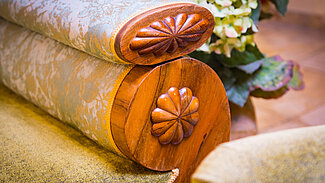 Unknown
, 10. August 2019
Review:
Relaxing, quiet, the epitome of a 5 star hotel. We felt safe and enjoyed our stay at your clean and charming hotel.
Review:
Great - would strongly recommend. Good size room, excellent facilities. Nice walking distance to main square. I really liked this hotel
Review:
Terrible. Everything about the property is out of date. Manual check in; very old TV, shocking shower with no way to stop water flooding part or all of floor. Drapes dont stop light entering the room. Furniture is poor quality and laid out wrong. Property shows all the signs of what was probably once quite a quality facility deeply emersed in it's sunset years; typical of a family enterprise that is reluctant to keep up with the times. In addition the loading on the room rate was totally excessive; from Euro241 to Euro368 or 53% uplift because the F1 car race was on is pure explotive price gouging; especially as we booked the room 3 months prior to arrival. This has left a very bad impression of the city of Graz.
Review:
a very good experience and plan to return there very often
Review:
It was just what I needed. Hope to return when I have more time, so I can also use the pool and other facilities.